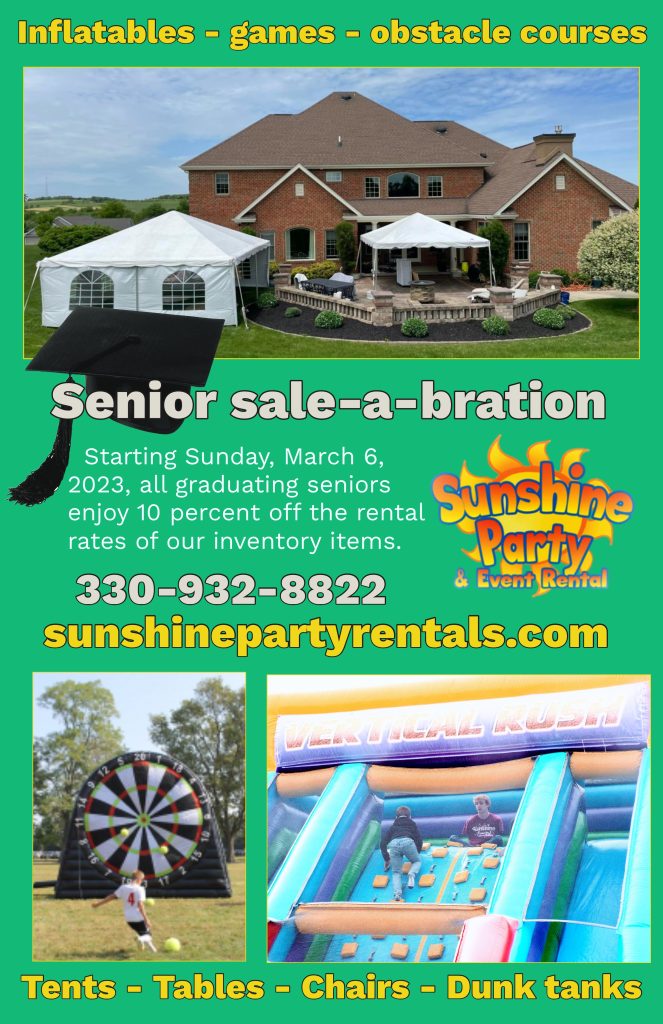 LET US TAKE YOUR GRAD PARTY TO THE NEXT LEVEL
The special day has arrived, and your special graduate is preparing to celebrate one of the most monumental days of his/her young life.
We can help you make that day even more memorable.
Sunshine carries a variety of items, ranging from tents with tables and chairs as well as inflatables and games even for young adults.
Dates in late May and early June are booking up quickly on our delivery schedule, so don't delay contacting us to see what we may be able to offer. We even are offering you an incentive to do that with our SAVE15 flash sale, which is running until noon Saturday, April 15, 2023 and can save you an additional 5 percent, when you secure your items with a 25 percent deposit and signed contract by the time and date.
This can be done either conveniently through the website link found in our email that we send with your quote or by stopping by our 49207 Calcutta Smith Ferry Road location in Calcutta, Ohio to do it in person. We are open 10 am to 4 pm Mondays through Fridays and 10 am to 2 pm Saturdays.
Not only do we have tent packages, you can kick up your decor a notch with a variety of colored plastic table covers for those 8′ banquet tables traditionally found in those packages.
Most of our standard bounce houses are limited to youth age 12 and under. However, inflatables like our Wacky Dome Bounce House, obstacle courses and zorb ball track are good for those guests up through adulthood too and those can truly help those young at heart relive their youth at this time of event.
Ask your sales representative about those options when you call and be sure to specify you want that GRAD special offer.
We can be reached at 330-932-8822 or online through our website, sunshinepartyrentals.com, or any of our social media presences on Facebook or Instagram if you have questions.