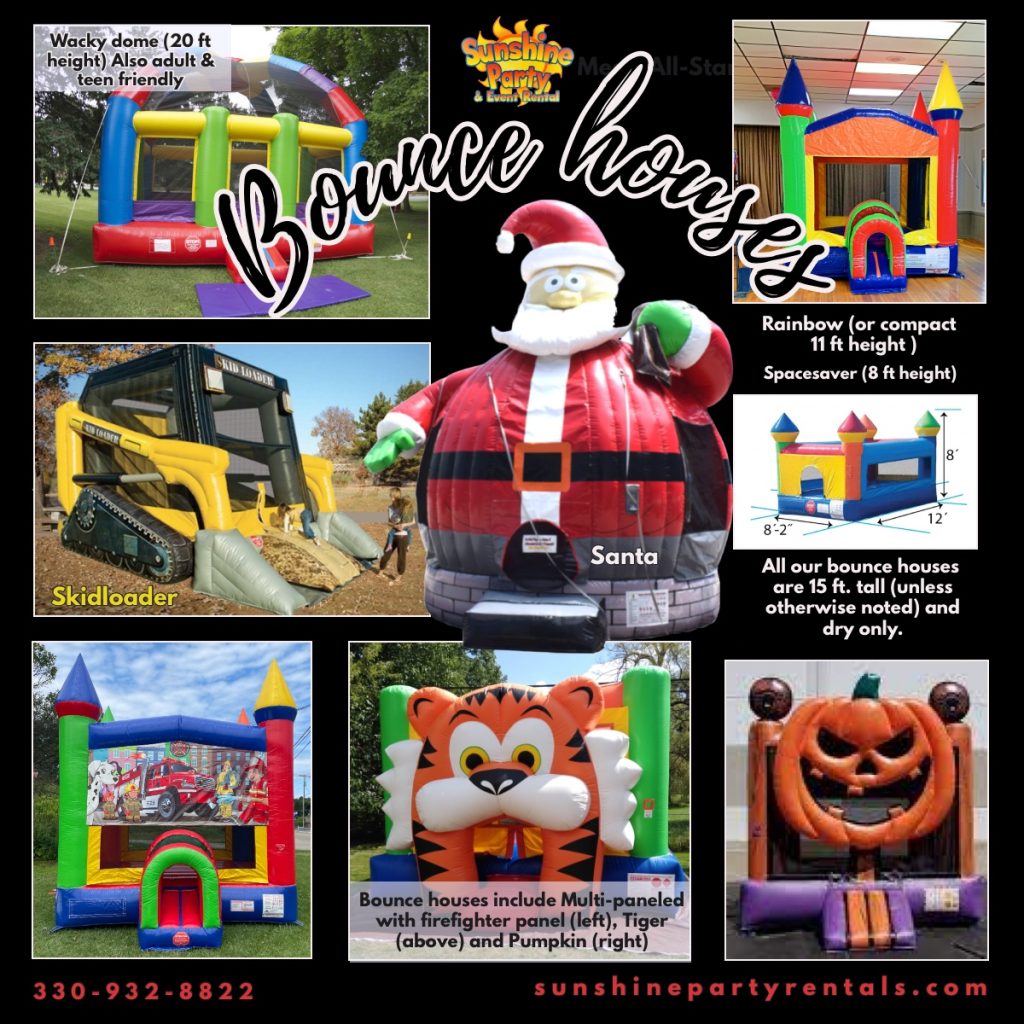 PUTTING THE BOUNCE BACK IN YOUR STEP
Of our inventory, bounce houses tend to have the most open availability during the warm weather, as people tend to gravitate towards items like dunk tank, water slides and wet combo units. However, this doesn't mean they don't offer an option – especially to outdoor events. 
The majority of our bounce houses are around 15 feet tall meaning that their interior venue opportunities are somewhat limited especially with the Great Outdoors as an option. However, Mother Nature sometimes may choose to rain and bluster on your parade, so some hosts and hostesses may opt for the protections provided by a great indoor setting – especially if it is air conditioned to boot.
If your quest fails to find your favorite water slide or wet combo available because it has already been snatched up for your date for another, we have a variety of options for you.
Our WACKY DOME BOUNCE HOUSE is probably the most versatile of our units. In addition to being one of the tallest, it can host teen and adult riders as well as the typical youth up to age 12. Based on its sheer size, the young at heart can bounce too. The maximum individual weight per rider of this unit is 200 lbs. and it can host up to eight riders at a time.
The rest of our bounce house inventory is geared towards the younger crowd. For example, we have several units that are holiday favorites: our Spooky Pumpkin, Santa and Multi-Paneled bounce houses.
 In September, October and November, the SPOOKY PUMPKIN tends to book up months in advance. A favorite for Halloween events and fall festivals, it includes an inflatable safety ramp at the entrance to protect kids as they scramble to get inside the bounce area, where parents can keep a watchful eye through netted windows as they bounce inside. It is typical of our standard bounce houses, which require a height minimum of 36 inches and riders be anywhere from age 2 to 12.
Another popular alternative yearround is our MULTI-PANELED  bounce house, which not includes Zombie and Haunted House panels for the Halloween crowd but also an Easter Bunny one for spring and a Santa one for winter. This is only a few of the decorative panels available as an add-on to this diverse bounce house, which also has other themed panels available, including the Firefighter, Monster Truck, Unicorn and Play Ball. The bounce house itself resembles our very popular Rainbow, but includes a slot where the panel can be included during setup.
Speaking of our RAINBOW, it comes into two size options. The standard 15x15x15 and a compact one with that fits in venues with a smaller – more vertically challenged – footprint. The smaller inflatables, like this and our SPACESAVER, are geared towards smaller children between the ages of 2 and 6. As does fit around four or five riders at a time not weighing more than 100 lbs. each. With a relatively gender neutral color scheme, it can be the perfect fit for a boy's or girl's event in those tight spots like a smaller venue or a backyard.
The SKIDLOADER is one of our more popular bounce houses especially for little boys, while the TIGER bounce house is a personal favorite for cat lovers or certain jurisdictions where the Tiger may be the school mascot. It also tends to be standard bounce house sized but easily fit in those more vertically challenged venues thanks to its lack of protruding towers on many of our castle-type bounce houses.
In addition to the six-hour base rentals, there also are all day and weekend rental options available, so be sure to check them out. Pickup anytime after 7 p.m. includes an after-hours surcharge.
With any inflatable, an electric current is needed to power the blower used to keep it inflated. So be sure you have one within 50 feet of your desired location or else you will have to supply a generator (not inverter). We do rent those as well and they come with four hours worth of gasoline.
Again none of our bounce house units (standard, compact or space saver) are wet units, or for use with water. If you want a wet alternative, you are encouraged to book a one of our combos early to avoid getting locked out on the delivery schedule as well as availability of your favorite on your date. All inflatable units (except the velcro wall and zorb ball track, which are staffed) are six-hour base rentals. Our entire inventory is on our website, sunshinepartyrentals.com.
For more information, call the office at 330-932-8822 between 10 a.m. and 4 p.m. Mondays through Friday or 10 a.m. and 2 p.m. Saturday. (We are closed Sunday)