CALCUTTA – Just last month, Sunshine Party and Event Rentals added two new inflatables to its vast inventory especially for the adventurous – no matter the age.
Check out our new inflatable velcro wall for ages 5 and up. It comes with a blower and two velcro suits (one small and one large.) The challenge is to bounce off the floor of the inflatable and see if you can stick to the wall. Rent the apparatus at a cost of $450, which includes four hours and an operator. If you want it for longer, it is an additional $50 per hour.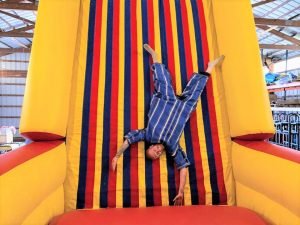 Or, for your littlest guests ages 1 to 5, we now have an a day. Book either today.
Sunshine Party and Event Rentals is located at 49207 Calcutta Smith Ferry Road in East Liverpool and carries a variety of tents, tables, chairs, concessions and games for your special event needs.
Do note that all inflatables have to be delivered and setup by authorized Sunshine personnel.